The Ambassador of Germany to Belarus Peter Dettmar has been interviewed by the Belarusian Association of Journalists. The BAJ Press Service officers inquired the Ambassador about the future of Eastern Europe, the information security and the influence of new media on the public opinion.
— Your Excellency, could we start with easy questions, please? It is summer time now. It is the usual time for diplomats to go on holidays. Do you have any special plans for your holidays this year?
— As for me, I will go on holidays since mid-August this year. As an exclusion to the general rule, it will consist of two parts this time. Firstly, we will take a short tour to the Baltics. Then, we will go to the suburb of Berlin, as usual, where our family house is located.
— Are there any places in Belarus you like most of all?
— Generally, I like travelling across your country, since you can observe such splendid views out of your car window. However, I've been impressed with two-three visits to Belavezhskaya Pushcha and some cities most of all. I wouldn't like to offend the dwellers of other localities, but I really appreciated visiting the cities of Hrodna, Polatsk, and Vitsiebsk, which got significantly improved in the recent years. Also, e.g. the city of Brest with its central part and pedestrian area is to my liking.
— You have notices changes in the images of our cities. Have you also noticed any changes in the society since the time of your arrival in the country?
— None of fundamental changes have taken place in the Belarusian society as a whole. However, I have such an impression that in comparison with the first period of my stay in your country in 2009-2013, the Belarusian society has become more confident and more open-minded to a certain extent. These are my personal observations, and they can be argued indeed.
— You applied for being delegated to Belarus for the second time. Apparently, Belarus is not the easiest country for a diplomat. Is it easy for you to work here?
— First of all, I would like to note that none of the countries, where I worked, was easy. I can tell you a lot of stories about other countries of the world that show Belarus as a practically ideal case compared to them. At the same time, it is more interesting and exciting to work in the complicated states. I wouldn't say that my work in your country is linked to some special difficulties.
— Could you share some of the stories from your experience to compare Belarus with other states?
— The public services operate here perfectly well. The sphere of public administrative procedures is arranged efficiently. Due to the fact, e.g. it is possible to have your car registered and communication channels updated in no time. In my opinion, Belarus has high-quality and quite high-speed Internet connection. There's a whole range of things that look absolutely different in other countries of the world in comparison with your country. I won't mention the states, since it would be impolite. However, e.g. the registration of my car in Belarus took two days. At the same time, the same procedure would require more than half a year in a different country of the world. Obviously, it makes a considerable difference in the quality of life in the countries.
— The problem of security in Europe has become a priority issue of public concern. The reality has changed considerably since the recent years. The serious challenges concern everyone. We wonder if your country has changed since recent years in connection with the growing flow of migrants and the lack of personal safety both outdoors and at home.
—Globally, it can be stated that the 'old' notion of security we experienced 5-10 and even 20 years ago is not valid any longer.  Obviously, the current situation in the Middle East and in Africa, including the so-called 'migrants' crisis', has exerted impact on the European Union as a whole and Germany in particular. As you probably know, Germany hosted the largest quantity of asylum-seekers in 2015 and in the following months. No doubt, it makes the German society concerned with the trend. You certainly know how many terror attacks and acts of violence have taken place since the recent two years in France, the United Kingdom, and Germany. The accidents inevitably make the society worried and concerned. In these circumstances, politicians should intend to ensure public safety for all country residents, both the citizens and the migrants. The safety policies should be equal for everyone.
However, should you ask me if I feel very anxious in Germany, I would tell you that I'm not, since the situation is far from being extremely grave. On the other hand, I'm personally very worried with the fact that the readiness to practise violence is extremely high all over the world nowadays. It concerns both the sphere of high politics and the grass-root level of public relations. I don't have any clear explanation for this phenomenon, but I consider it to be a highly worrying issue indeed.
— Talking about the German mass media, do you think that they cover the situation with the asylum-seekers and the dangers of terror attacks in the proper way? Are there any cases, when the German media disseminate some radical appeals?
— No, there aren't definitely any cases of this kind there. When I look through on-line media every now and then I come across quite frequent critical remarks, blaming the print and broadcast media for covering the issues in the extremely reserved way. Our newspapers and public broadcast media never deal with stirring up the radicalization of our society in their reports. Just on the contrary, they intend to avoid presentation of any radical views in their materials.
— Our media space is sometimes filled with distant manifestations of provocative 'leaks', such as a story with a girl, named Liza, or stories with participation of asylum-seekers. Do we witness random or systematized attempts to aggravate the present-day situation?
— Everyone decides for himself whether the cases are random or systematized. To my mind, they can be regarded as random.
I think that we failed to get it well long time ago what effects could mass media create through their constantly broadening channels.
Consequently, we appeared unprepared for the immense influence of electronic media on the public opinion and public trends. It is only since recently that the whole scope of this impact has become well understood, when discussions about fake news and similar phenomena have become wide-spread in the society. I wouldn't regard it straightforwardly as a 'dangerous' process, but it should be closely considered from the political point of view for sure.
We've created the fantastic world of the Internet, on-line and social media, which we use, including Facebook, Twitter, Google, Wiki etc. All of us have been excited with the wonderful new open world.  However, we disregarded the negative consequences of its existence, in my opinion. Thus, any person can share certain opinion, connected to a certain event, having nothing in common with the reality. Consequently, each of us has to ask yourself how deeply you should investigate the issue, in order to get it clear if it is true or false, if it's propaganda or not. As well as in order to understand how dissemination of this report may influence certain events in different countries.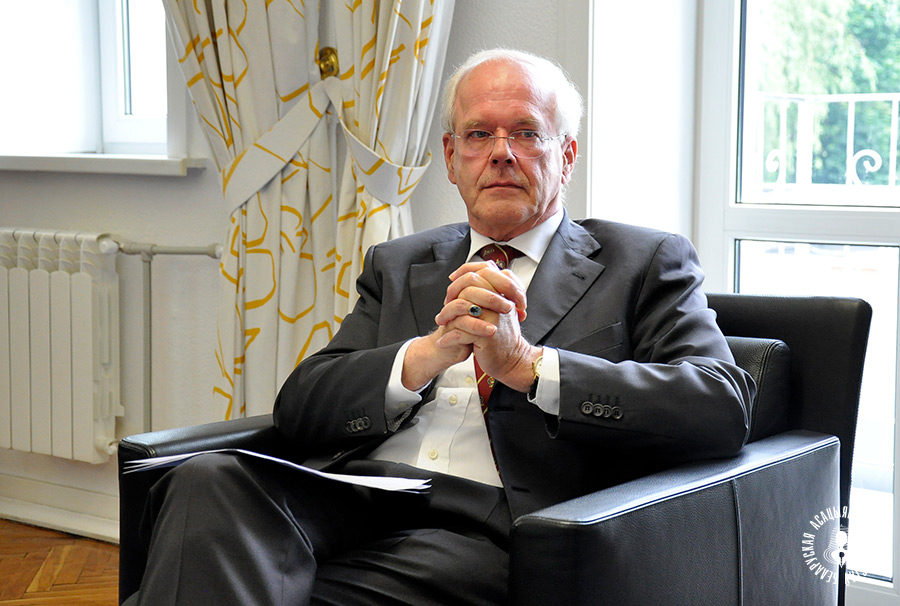 — Could you kindly reveal your personal information sources? Is it Russia today, Radio Liberty, Süddeutsche Zeitung? What is your personal selection of mass media you read? Do you have any preferred media among the Belarusian news resources?
— Taking into account the said above, you certainly understand that I do not have time to look through all the mentioned media in principle. I get around 40-50 brief news reports on Europe and Eastern Europe from the German Press Agency every day. These are brief facts only. Additionally, I watch TV-news on ARD and ZDF once a day and read Die Zeit weekly that provides comments and detailed analyses of events, dwelling upon their reasons in the precise way. As for the Belarusian media, I must confess I'm too lazy and lacking time to indulge in reading texts in Russian. Therefore, I adress to the media with the English version, including BelTA, BelaPAN, and TUT.BY, first of all.
— What is your vision of Eastern Europe in twenty years? Do you have any ideal vision in this respect?
— I see it as a large community of nations, living in peace and understanding that only due to exerting common efforts and avoiding conflicts it will be possible to have happy and normal future for our children. Maybe, it is not easy to imagine nowadays, but we should do everything possible to make it a reality.