On March 1, the Minsk City Court, judge Valer Kamisarau considered the appeal filed by TUT.by correspondent Pavel Dabravolski.
On January 25, the correspondent accidentally followed two detainees escorted out of a courtroom and, alongside with the detainees, was beaten by police officers. The same day in the evening, he was fined for 45 basic amounts (9 450 000 rubles) (under articles 23.4 (disobeying lawful demands of an official) and 17.1 (hooliganism)).
The public and journalistic community got outraged over the incident. The journalist filed complaints demanding investigation into the fact, colleagues sent a collective petition to the Minister of Information demanding to investigate the case and to take steps to ensure safety for journalists at work in communication with official representatives. The incident was broadly discussed in the media, and even on state TV.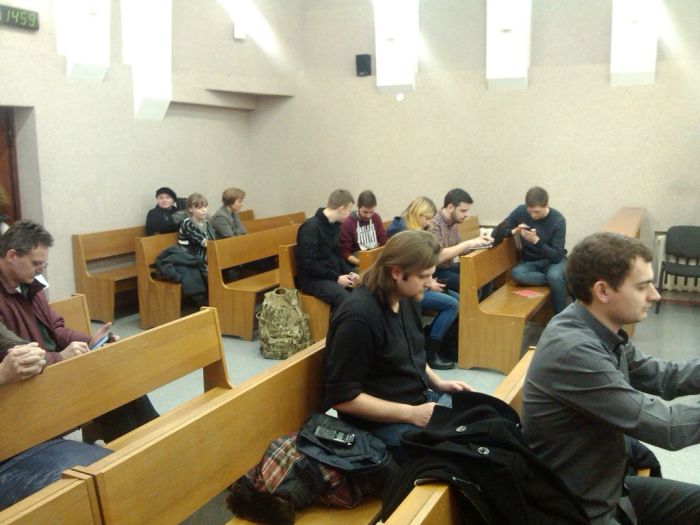 Nonetheless, the judge dismissed all arguments and upheld the fine.
The Minister of Home Affairs did not disapprove the actions of the police officers. The Minister of Information also turned a deaf ear onto the petition, supporting that the journalist had been wrong.
Now Pavel Dabravolski is waiting for a reply from the Investigative Committee, to which he had appealed asking to investigate the fact of abuse. He is preparing an appeal to the Supreme Court.
Journalist Beaten in Court Building
BAJ Demands Criminal Investigation into the Fact of Beating a Journalist
Journalists Petition to Investigate the Beating Case
OSCE Representative condemns police violence against journalist in Belarus and reiterates call on authorities to stop persecuting members of media
EFJ: Belarus detains and fines journalist for filming police attacking protesters
RSF: REJOINING INTERNATIONAL COMMUNITY REQUIRES END TO REPRESSION
Ministry of Information Replies to Petition: Journalist Interfered with Police's Actions