During the Tutaka Festival, which took place in Podlasie (Poland), the marathon of solidarity with imprisoned journalists, initiated by the BAJ, continued.

Politicians, singers, and other famous Belarusians supported our colleagues who are now behind bars.
The Tutaka Festival was held in Podlasie, just at the Belarusian border. This place has been particularly important for the Belarusians for decades, the alternative and rock music festival Basovishcha was held here multiple times. And now, thanks to such events, Belarusian national culture survives.
The festival consisted of several days of performances, speeches by politicians and public figures, and concerts.
The solidarity marathon was also one of the proposed activities. As a sign of support for the imprisoned journalists, the participants in the action – politicians, musicians, cultural figures, reporters – held up their portraits.
Sviatlana Tikhanouskaya held a portrait of Andrei Aliaksandrau, Pavel Latushka drew attention to Ksenia Lutskina, Katsiaryna Vadanosava and Yury Stylski held a portrait of Katsiaryna Andreeva (Bakhvalava), Aliaksandr Ivulin expressed solidarity with Maryna Zolatava, and Marharyta Lyauchuk held a portrait of Aliaksandr Liubianchuk.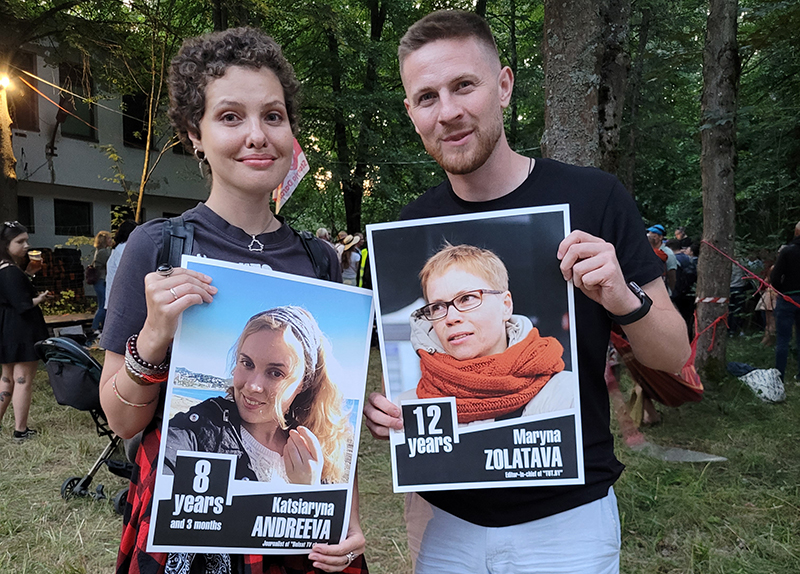 The situation of imprisoned journalists remains in the spotlight, despite the regime's counterwork. The participants of the marathon asked how else they can help.
"I am taking part in the marathon in solidarity with Belarusian journalists because I share the pain of the parents, children, and relatives of these brave people," said Sviatlana Tsikhanouskaya. "They are real professionals, that's why they have suffered from the actions of the regime. Every day of their life in prison means their plans unfulfilled, their children not hugged, tears in the eyes of their family members. Together we can bring the day of freedom for all political prisoners in Belarus closer. Let's fight for the truth! Let's stay together!"
Another participant in the marathon was the artist Yana Shostak. She has repeatedly made artistic performances. For one minute she would scream to attract attention to political prisoners, and this signal to the world is clearer than many words.
We remind you that the marathon in solidarity with Belarusian imprisoned journalists started on 3 May in Vilnius with a joint action of the Belarusian Association of Journalists and the Union of Journalists of Lithuania.
Germany, Sweden, Finland, Denmark, and other countries have already joined the action.
BAJ calls on colleagues all over the world to support the solidarity action!

You can print portraits of imprisoned colleagues, take pictures with them in recognizable places of your city and publish them on social media with the tags #СвабодуЖурналістам and #BecauseTheJournalist, and also send us to office@baj.media or intercomm@baj.media.
#СвабодуЖурналістам
#BecauseTheJournalist
Чытайце яшчэ: